Post by John on Sept 19, 2019 9:49:07 GMT -5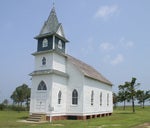 I agree with exerting a certain amount of control in situations, but not total control of the flock, were you say what everything goes in their life.
And I do believe it is right this definition, but exerting some power in decisions, and stuff like that, of course there is some of that within a position of authority, but it is not like an Hitlertarian way, no not at all, because also there is other scriptures to consider, and yes it does cover attitude.
A preacher must also be sensitive to the Holy Spirit.
And literally, that definition is what lording over literally means, but of course it goes on the side of attitude, and their is exerting control of certain situations, but it is not total control.
And along with the word saying submit yourselves to the elder, it also says submit yourselves one to another.
And yes their is leadership, but also the leader must be sensitive to the leading of the Holy Spirit and to allow people to be used of the Holy Spirit, otherwise you are not using your authority in a biblical manner, and all you are about is yourself, and not the body, for it is a body ministry, and not a one man show.
It is not total control to were we say what people do in every aspect of their life, that is not biblical.
While I am not sure we see everything exactly alike, I agree far more than disagree. It was helpful knowing about your past experiences with denominations, and I have seen abuses from Pastors trying to rule over every aspect of the congregation's lives. I feel much the same way you do.