Post by John on Dec 28, 2019 18:57:18 GMT -5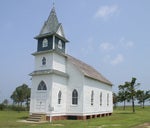 There is a false doctrine that is being spread, mostly by feminists, where they claim that wives are no longer under subjection to their husbands because the curse was supposedly done away with through faith in Christ. The problem is, they only point to a couple of examples to show that while ignoring other things. They like to claim that because of advances in medicine, women no longer have pain in childbearing. This was the first time I have heard someone take that to the next level and claim women don't have to experience physical pain during child birth without meds if they believe. That is clearly not true of most women. There are women who still die in childbearing.
Men still have to earn a living by the sweat of their brow, but there are exceptions. Some work in an air conditioned office and some men are wealthy and do not have to work. That doesn't mean the curse is gone. Many men are still working by the sweat of the brow. Before the fall, things came easy, but not today. Ever hear of farmers losing their crops because of foul weather or bug infestation? The spin would be to point out the exceptions and claim that is proof the curse is lifted.
People still get sick and die. That is the result of the fall. The spin is that some are healed and a handful of dead people have been raised, but if the curse was lifted, no Christian would ever get sick and die. You see how this works. It is spin. It is feminist false doctrine. It is every bit as false and dangerous as any other false doctrine that has infiltrated the Christian church. It has been just as destructive as the all inclusive lie and OSAS. It is just a different false doctrine, and its main objective is to defend rebellion in the home. Most men are too afraid to speak out against it for fear of the backlash, so it is allowed to continue to spread. It is easier to walk on pins and needles worrying that you might be seen as a chauvinist or misogynist or any other derogatory name feminists created, than to make waves and expose the heresy. I have witnessed the harm that has come from being silent about it, both to children and to the family.
Are people really teaching that?
They are. I first heard it from someone who used to go by Floating Axe. She teaches all kinds of false doctrine. She is on different message boards, and I am not sure where she got this doctrine.