Post by Dezi on Jan 8, 2020 11:10:03 GMT -5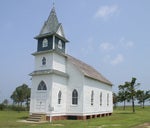 It is not possible for the blood of bulls and goats to wash away sins. The only reason they had value, was because God saw the sacrifice His son would make in shedding his blood in the future. It is like that brazen serpent. It had no power to heal in itself, but it was showing that Christ would one day come and that He would bear stripes for our healing. The Levitical Priesthood and all of those symbolic ordinances were as a type of temporary system that would act as a bridge to get us to Calvary. Had Jesus not died on the cross, nobody, including those who had kept the law to the letter, would have been saved.
And one more reminder . WHY did GOD not even see nor desire their sacrfices any longer . Because so many were just sinning away and then when it was time to go through the motions
they were like OKAY good I am clean again , NOW lets go right back into doing our evil , etc .
In other words their sacrifices were not even from the heart ,
Its a lot like confession in many today . OH some churches teach , and many are of the opinion , OH we can sin , we can live like the devil all week and then GO confess it on sunday .
Daddy god is love , he knows stuff . But rest assured , GOD KNOWS WHO LOVES HIM and WHO DOES NOT . HE knows who is OF CHRIST and who is not .
HE sees all , hears all , knows all , and HE can discern ANY INTENTION of the heart . HE KNOWS why folks do as they do , no matter if they kid or deceive themselves , THEY AINT FOOLING GOD .
A true lamb hates sin , he hates the evils of his own flesh , He follows CHRIST , for GOD has changed that lamb . But hirelings and those who follow them
follow another gospel and another jesus , of which cannot save . ONLY JESUS saves , SO let alll who name the name of JESUS CHRIST , FOLLOW JESUS CHRIST
fleeing evil , doing good by HE who unctions and gives us the abilty . Let all who name the name , do something that many no longer do , RETURN TO BIBLES ONLY
fleeing Hermes and hirelings , TRUSTING ONLY IN GOD and feasting ON those bibles . FOR SURELY what GOD INSPIRED , HIS SPIRIT can also give the understanding of , to all who LOVE HIM .
Your words encourage me to live my best life to the Lord... please keep them coming Brother!