ARE WE?
Feb 2, 2020 14:06:32 GMT -5
Post by Deleted on Feb 2, 2020 14:06:32 GMT -5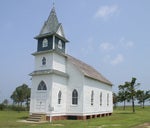 I think we need to first understand what witchcraft is to be able to say anything much about it really.
But since rebellion gets mentioned so much.....I'll take the opportunity to point out that Paul didn't teach about marriage that way, it just doesn't enter into that conversation. He didn't accuse husbands who would fall short at times saying they would be in "rebellion is as witchcraft" and nor did he accuse wives of it. It just wasn't in his teaching about marriage. We came out of rebellion when we came to faith in Christ....we are none of us in Christ imputed or accused of rebellion any longer. (Except if any continue to sin WILFULLY, then they become fallen again, because willful sin is of course rebellion.)
Most have received their understanding of marriage from man's traditions and teachings (aka FLESH). Their mindset at it's core, in principle, essentially makes the husband out to be an enforcer and his wife his slave. And when some still think of Jesus as a bully it's not surprising to see bullying on forums. Many fail to recognize that the WHOLE POINT of the Bride analogy is that of redeeming a person OUT OF SLAVERY and threats and smitings to make them co-heirs with Christ ruling and reigning with Him as queen at His side.........no longer in slavery but the very OPPOSITE OF SLAVERY, oh my, in the exercise of her free will and out of LOVE for the Bridegroom. So THAT should be the image that Christian marriage projects. Oh but bible says the church/wife becomes a slave of righteousness some argue (funny how they take so much offense at the slave analogy and then turn around and immediately try and defend it from scripture)....but yes, they are still not thinking in a RIGHT SPIRIT on even what it means to be a bondslave of Christ... The year of release after seven years gave slaves their freedom utterly without cost or obligation....their SABBATH year......But if they WANTED TO they could come back to their masters and pledge (covenant like marriage) to remain with them for life from a place of complete freedom and not under compulsion or intimidation or guilt-tripping or manipulation or accusation of any kind.....but freely of their own accord out of LOVE for their masters. Threats and smitings and intimidations are for children when they disobey....NOT FOR A BRIDE, WHO BY DEFINITION IS FULL-GROWN AND IN COMPLETE FREE-WILL SURRENDER TO CHRIST.
It helps to understand what Egypt and Sodom stand for......they represent the two leavens that Jesus warned us against. Egypt is the leaven of the pharisees, slavery, force, intimidations, smitings and being under the control of others.......Sodom is the leaven of Herod...licentiousness and earthly minded. Jerusalem represents the church.....gone astray one way AND the other.....why she is referred to as Sodom and Egypt in the book of Revelation. People err if they are only on guard against one leaven over the other...while they are watching for the one leaven they are leaving the door wide open for the other leaven to take over. And of course both come under judgment...all of Jerusalem was destroyed. And beware because the angel of death killing the first born of Egypt (slavery/threats/smitings/controlled) is a similitude for spiritual death...killing/quenching the first born who is Christ in us.
Anyway I thank the Lord for His wonderful insights....maybe let's meditate on these things awhile, and may the Lord God give us light.