Post by Cletus on Apr 19, 2020 14:33:15 GMT -5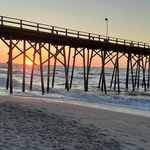 in between God telling me about him stretching me and being told of the vision God took me back to the story of the refiners fire. you know the story right?... some little old church ladies were doing their sunday school lessons and one of them decided to do an in depth study... and she found the silversmith but the silver in the fire and at the moment the dross comes out and the silversmith has purified the silver he removes it in that moment because a moment to long and the silver is destroyed... the thing is tho... the silver smith knows this precise moment by being able to see his reflection in the silver.
Gen 1:9 And God said, Let the waters under the heaven be gathered together unto one place, and let the dry land appear: and it was so.
Gen 1:10 And God called the dry land Earth; and the gathering together of the waters called he Seas: and God saw that it was good.
God clearly says his making of dry land is good. on dry land can be found mountains... and valleys.
now look at those majestic mountains. are they not breath taking? a marvel of His craftsmanship? and we love to be on that mountain top, dont we. but what do you see... rocks, snow, etc. now look to the valley. what do you see? its green and lush... only in the valleys do things grow. therefore, embrace your valley.
even more, cast your cares upon The LORD because HE CARES FOR YOU!!! we are not without a Helper. we are not forsaken. its one thing to pray for you, and i will gladly lift up a sweet savor of incense on your behalf... but there is that part that you must do. you must walk, one foot in front of the other. you must be strong and do this. do you not know that God chose us... for such a time as this? He will carry you when you are not able, just as Jesus had help carrying the cross... but Gods will still came to pass.
Jesus has defeated the grave. if His Spirit is in you, and i highly suspect it is... this is your inheritance. you are more than an overcomer.
my prayer is God would strengthen you in this time, show you how to lean on Him in depending on Him for your EVERY need. even to give you peace, but to teach you how to ask for peace as needed. and that He would draw you even closer. i ask God give you understanding on how to use your time wisely... to get closer to Him. to be preparing yourself for even harder times. And that your faith be made stronger. Set our eyes on you LORD. nothing else can compare to your worth. Oh thank you for helping us. amen.
its not easy to wait on God. but its a good place to be, knowing by your own power... i cant do this.
Thy Strength is needed LORD.
You know, God told me to trust Him. To stop seeking an escape.
He's the Lord. I do trust him.
Luk 17:32 Remember Lot's wife.
Luk 17:33 Whosoever shall seek to save his life shall lose it; and whosoever shall lose his life shall preserve it.