Post by John on Jun 6, 2020 12:41:17 GMT -5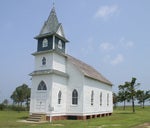 In my dream, I was in a church, and was the Pastor. The church had been small in number, but it was suddenly remodeled , and there was a large congregation that had come in. It was not a mega church or anything like that, but it was a nice sized congregation. I was not prepared for them, and had to rush to get everything together. I do think the Lord is getting ready to bring people in, but the true revival will be missed by most, as they are part of the phony "awakening." Let us all be ready.
This could mean TWO things . and everyone needs to pray about this . The remodeling could represent , hard severe persecutions against the peoples that caused some to repent . a remodeling that brought them
back to the original pattern of JESUS and the apostels .
But watch out , because in the dream their seems to be a warning , a reminder of sorts . For in the dream , You were NOT PREPARED .
This makes me think it could also mean something else . And that is that perhaps those people coming in , were a flood connected to this new false awakening . and you were not prepared for it .
John . i honestly do not know which of the two it is , but i do know one thing , IN the dream , YOU were UNPREPRARED . God gives me reminders too .
about being prepared . LOOK something big is coming and we had all better be prepared in JESUS . I know deceptoin is rising so fast that nothing can keep it contained anymore .
Now , while it is true we will see some repent . we need to stay also firm on the fact that as JESUS and those apostles said , in the last days A MASSIVE FALLING AWAY
days like lott , days like noah , and in those days , VERY FEW INDEED were saved . Very few . most had fallen out big time and grew worse and worse ONLY . JUST as paul too said would abound .
I would pray to the LORD , my friend , and ask HIM to reveal to you , WHY it was you were unprepared in the dream .
JOHN , i had a dream a few weeks back too . In the dream i had to take my pants to the washers . they had gotten green stains on them . I KNEW that they had to be cleaned .
As i was hurrying and i approached the cleaner , i realized oh dear i have no money to pay with . But alas i looked again and i then had Money to pay them . and it was not a minute too soon .
i entered into the washer and the clock by which they had to be washed was six oclock and it was five forty five . I barley made it in . YET i see in the dream that the MONEY that was the price
to clean the clothes , i did not supply it , i had no money , GOD DID . So that tells me , that garments can only be made clean by GOD . AND WE KNOW that is true , CAUSE JESUS is the one who gives us the clean clothes
and if we err , get a spot , IT must be cleaned ASAP fast and again that is HIS working in us that convicts us of error and leads us to repent .
But the sense of urgency of the time was big in this dream . Number one , KEEP THOSE GARMENTS SPOTLESS , and if any does ERR , REPENT ASAP FAST .
I appreciate your thoughts on this, and I will definitely consider what you said. I was given another dream last night along the same lines. This one was a follow up of sorts, where I was at this church, and was being encouraged to be faithful in feeding the flock. I do not remember the details as well as in the other dream, but that was the jest of it.