Post by frienduff on Jun 7, 2020 9:28:06 GMT -5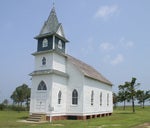 i was like , ON the inside , SOMETHING IS WRONG , alarm bells were going off . Something is wrong . AS YOU said , GOD had PUT me in the bible . SO by HIS SPIRIT , I knew this aint right .
Many new lambs might get stumped , but and this is key john . Deep within they know something is not right . WHEN they hear one twisting peter or etc or hebrews , THEY KNOW , wait this is not right .
Beleive me , its what the SPIRIT did for me , even before i knew hardly anything . I was a wee thing , even when i picked up the purpose driven lie . See i was really hungry , BY GRACE , for truth .
So sure i would go to chrsitain book stores , thumb through many books , BUT always such emptiness . THE LORD , YEAH , HE DOES watch over us .
Now i assume many who sat in churches for years or etc , yet were not really born again yet , maybe just went through the motions . AND then if one of them gets drawn in , YEAH
at first they might hold on to some of those doctrines . BUT and as you said this is key . GOD PUTS A LOVE FOR TRUTH on a lambs heart , SO into those bibles THEY WOULD GO .
and in time , OH YES they gonna start having questions , doubts and suspscicions on many doctrines they might have learned that were wrong . OH YES that occurs too .
Not truly being born again is certainly the reason in some cases. I have trouble believing people like BB are saved. I do not see how someone with that much hostility and false doctrine can be born again. At the same time, many never took the time to consider they might be wrong out of fear. They are lied to, and told that if they do not believe in OSAS, they are fallen from grace or they crucify Jesus afresh or they are prideful and trying to save themselves, or some other such rubbish. They are scared to consider they might be wrong, because they see changing as them being deceived. They put up their defenses to avoid being deceived by us. They should not take our word for anything. They should read the Bible and see what it says. Do not believe anyone till they do that, but we have to get them to be willing to take the time to do that with an open mind. That is hard to do.
JOHN here is a birthday reminder for you . IF the peoples cannot discern the true ones from the false ones NOW , what on earth makes us think they will ever discern The beast , the FP and all that do its work .
IF they cannot discern true from false , they will not be able to discern the Father of lies and The end time great delusion . PEROID .
And now i remind us , we better be on gaurd , for many do come with a christ like appearance , BUT THEY DO NOT KNOW NOR FOLLOW HIM and yet they sit over many . They can holler certain truths out
and be right on those particular things , and YET its all about using those examples to head them into a giant net from which there is no escape .
an example . even pope francis , even todd white , even benny hinn or copeland can come and say the system of ROME was evil , they persecuted and put to death many
and they too can point out some of the errors even in some of the reformers , BUT THEN SPIN IT , to create this need for UNITY and spin an idea that we need a new SYSTEM
one in which they claim will glorify God , when in truth , THIS SYSTEM , this unity they speak of , IT CAME FROM ROME ITSELF . FRANCIS IS ALL BEHIND this as were other popes .
They spin an idea that they are about changing the old system and making a new one , YET look at their direction . This new system they are creating in mindset by this unity , ITS ROMES IDEA
and ROME WILL SIT OVER the new system . GET AWAY FROM ALL CHARLATONS whose focus is not on continous bible reading , and rather they just focus on maybe some healings
maybe some good works , and all about UNITY and common ground they are . ITS A SPELL , ITS WITCHCRAFT like nothing i have ever seen . AND ITS ALL OVER those protestant leaders . ALL OVER
the churches both small and large . And its even in other religoins and the world . Folks keep waiting on some falling away ,AS THOUGH its future . NO ITS RIGHT NOW and ITS MASSIVE .
COME YE OUT from them all and never look back .