Post by watchful on Apr 28, 2021 8:38:51 GMT -5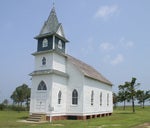 2Co 6:14-17
(14) Be ye
not unequally yoked
together with unbelievers: for what fellowship hath righteousness with unrighteousness? and what communion hath light with darkness?
(15) And what concord hath Christ with Belial? or what part hath he that believeth with an infidel?
(16) And
what agreement hath the temple of God with idols
? for ye are the temple of the living God; as God hath said,
I will dwell in them, and walk in them;
and I will be their God, and
they shall be my people.
(17) Wherefore come out from among them, and
be ye separate,
saith the Lord, and touch not the unclean thing; and I will receive you,
I will eventually mention other verses, and there is an actual verse that I want to later focus on, in Deuteronomy.
But I want people to share things in regards to being a separate people, with whatever scripture and so on, with what God has revealed to them.
One of the most obvious ways we are to avoid being unequally yoked together with unbelievers is to not date and marry those who are not Christians. Many people who were once strong Christians have had their faith shaken by a marriage to an unbeliever. Right now, I know of a woman who claims to be a Christian, but her husband is an agnostic. She is responsible for her own decisions and beliefs, but there is little doubt in my mind that many of her wrong attitudes about scripture come from her husband's bad influence. She does not believe in inerrancy of scripture, and even attacks many things in the Old Testament, but what she is saying is what her husband says as an agnostic. Had she been married to a Christian, her views would likely be entirely different. Many find themselves in even worse places, like another woman I know of who is a Christian, but thought she would be fine married to a Muslim. That did not turn out well.
This is not confined to marriage. We can be influenced by close friends and associates as well. If we spend the bulk of our time around unbelievers, they will have a bad influence. That does not mean we have no associations with anyone but Christians. If we were like that, we could never reach anyone for Christ, but we do need to be very careful with relationships, because they can cause us to be more and more like the world and less and less like Jesus, and it happens without us realizing it. Before we know it, we find ourselves backslid. Being unequally yoked with unbelievers has been the downfall of many good Christians, and this is a teaching that is often ignored or attacked by believers. We all somehow think we are strong enough to handle it and change others, but that is often not the case.
Kind of a human herding instinct that we all have and can be influenced by. Bad company corrupts good manners....people tend to homogenize with one another after a while through the old nature. Women are generally especially so. It's of the flesh and something we need to overcome...this is another way we are to grow, and be separate unto God as individuals.