Post by frienduff on May 3, 2021 13:22:38 GMT -5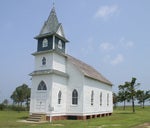 And even in remembering the resurrection of Jesus, and his death, we would not be calling it Easter, or Ishtar, in fact in the Lord's supper we are continuously remembering his death.
It is not a hard thing to see, the bible says this:
Exo 23:13
(13) And in all things that I have said unto you be circumspect: and
make no mention of the name of other gods
, n
either let it be heard out of thy mouth
.
We need a witness that is totally separate from paganism in every way, that way only the truth will be shown, and not mixing lies with the truth, or taking the Lord's name in vain.
We need only the truth, no mixture at all, and I am all for celebrating the birth of Jesus, and his death and resurrection, but without mixture, in name, in practice, and in doing things God's way.
God has made every day, but men have invented pagan celebrations, and Satan has brought about these things, as a counterfeit to God's ways , celebrations, and so on.
It is well known that The sun god was said to be born on December 25th and it was purposefully chosen for this purpose, by the Roman Catholic church, there is no hiding this, all they did is mix paganism with the bible.
And I had unbelievers come to me, wondering why people were observing Halloween, even Christmas, when it is known that there is paganism attached to these things.
It is not as much of a witness, as we think it is, a better witness, is just to simply live out the gospel, because I have never seen a great witness with Christmas.
Living out the gospel is the best witness, because in reality, you can have all the celebration you want, it will do nothing unless you live it out.
Purity in every way should be the goal, and yes seeing things God's way should also be the goal, people who seek the truth, want to see things God's way.
We are suppose to put on the mind of Christ, and not the mind of our own opinion.
Unless a person has had their head in the sand, they know that the Catholics chose December 25 to celebrate Jesus' birth to coincide with a pagan holiday. They were trying to unite all the world religions. As a matter of fact, the Catholics do not believe Jesus was born on December 25.
It has been sometime since I found this information, but I think the source was Catholic, and they have Jesus' real birthday as taking place on August 12, 3758, which became August 12, 3 B.C. They also recognize that the day of Jesus' resurrection was April 28, 3791 or April 28, 31 A.D. They also are responsible for changing our calendars. They even have a day they have on record as being John The Baptist's birthday, and that is March 17, 3758 or March 17, 3 B.C. As such, if they believe this, why celebrate Jesus' birth and His resurrection on the days they do? We all know the answer to that question. I am not arguing about any of that.
With regard to "Mas," Watchful is right in saying that just means celebration, so Christ-Mas means to celebrate Christ. I hardly see that as taking His name in vain to use words that mean to celebrate Christ. At the same time, Catholics have a Mas everyday of the calendar year, and celebrate one saint or another on each day. That to me is problematic in that it reduces a celebration of Christ down to the level of just one of 365 different people. I still do not see this as using His name in vain or even doing anything out of malice, but I do see a possible issue.
Getting back to the actual birthday of Christ, let's say we were starting all over, and we had reason to believe that Jesus was indeed born on August 12. I have no reason to doubt it, because there is no reason for Catholics to give this date as accurate, when it proves they celebrate Jesus birth on the wrong calendar day. Would we consider a holiday celebrating Jesus birthday on that day? The same thing for the resurrection. Would we celebrate it each year on April 28 rather than Easter? Would that be better? I kind of think it would, and leave the paganism out of it.
Things will continue to go from bad to worse my friend .
I know i have said this before , but the lambs are gonna have to gather in due time .
What i say next might seem dangerous but one of us has to go get our sister from the uk . Unless God is gonna have us all end up on that continent .
Due to the covid cow its not likely anyone is going to be able to fly . But if we can find a way to get a cheap motor boat . One of us can get up to alaska and its only about a ninety to hundred mile
stretch till you hit the coast of the european continent . The way i see it , I had rather be blown up by a russian plane for trying to cross that channel , than to take that nasty vile shot .
We should pray first on this . But know this , IN this world it wont be getting any better , only worse . I guess i better learn those russian hyms . That would be such a sight my friend .
I wonder what the russian govt would say , Well we saw this man and he knew russian cause he was singing russian christain hyms . I get so tickled at the thought of it .
But being serious , we will have to gather my friend . Covid , passports , and worse , DARPA has a CHIP JOHN . A CHIP . This is fast going in the direction it was foretold it would .
Let us make no mistake , Darpa and other govts and the companies of the world dont gather for a presentation about a chip in the hand , UNLESS THEY KNOW ITS COMING .
Its coming john . They can milk it right into the covid cow too . And that shot is total bad news so we cannot take it either .