Post by Abby-Joy on Aug 15, 2018 11:57:05 GMT -5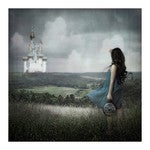 We understand so little of what Yahweh did in our DNA, but it is quite possible that we as Christians have been 'altered' by the Holy Spirit to be immune from any exterior threat. (protected by the Blood)
We know that in Noah's day, the polluted DNA was mostly destroyed in the flood. We also know that most of the 'hangers-on' were destroyed by Joshua and the battles that exterminated remnants of the giants.
That there are still a few vestiges today is quite typical of the Lord God who is very careful to keep the playing field level so that He can show His Triumph over all evil eventually.
I have heard many times that 'abductees' by these nefarious 'other beings' are generally left alone if they call upon the Lord Yeshua. (the word of their testimony)
So it could be said that THE NAME above all others and THE BLOOD eternally shed, will deliver us.
Neither will ever lose its POWER.
Thing is, like Saul over the fire, when the snake bites it will have no effect on the Lord's Own.
That we already carry markers is quite possible and almost 100% probable. They are undetectable.
Believer will not be affected unless they REALLY REALLY REALLY want to bow to the beasts of government's dictates. Try to always read the small print...
Well considering the Nephlim were all destroyed before the flood, and that the giants appeared again after the flood, only proves that someone on that ark was carrying that gene. The giants came from Ham's lineage. I know from the book of Jasher that Noah's three sons married three sisters. One of these sisters must of carried that gene. I heard on the radio last year that three sisters got DNA tested, and their tests all differed, as not all carried the same dominant gene, so what showed up in their blood was all different even though they had the same parents. Food for thought.
Actually, there is one other possibility, and that is another incursion. I don't believe God sent the flood to do a halfway job... I don't believe he left any nephilim alive, at all. If someone on the ark carried nephilim DNA.... guess what? That made them a nephilim! lol I don't think the Word of God would say that "Noah was perfect in his generations" ... and use that as a standard for saving him alive, just so he could put some nephilim blood/dna on the ark and save them too. Think about it... the ark is a type and symbol of God's saving grace.... God doesn't save nephilim. That is just my opinion. That gets tricky, because many of us were told we carried nephilim DNA. (This, to cause us to believe God wouldn't/coundn't love or save us.) There are many women/victims of SRA & MK who have been used to bring back "the days of Noah" in our time. That is, to carry offspring for them.