Post by Sister on May 4, 2018 11:36:49 GMT -5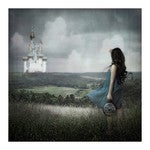 I agree with this premise, but I would take it a step further. God will prove that perfect love is indeed the strongest force; no matter how much strength or advantage wickedness may gain, no amount of wickedness can topple love. As long as Satan holds out hope that just a little more power, a few more slaves, and he could have won, he would have a legal case to challenge God's throne. This is why Jesus said He will build His church and
the gates of hell shall not prevail against it
.
This is why John said the light shines in darkness and the darkness could not overcome it. The kings of earth took their stand against the Lord (Psalm 2). It was a working-class carpenter and His ragtag band of disciples against the full weight of a global empire, and Jesus still won. Over and over, God gives Satan every possible advantage, only to show in the end that God has been toying with him.
We must remember that Satan has his own kingdom right now. This is a war between two kingdoms, which are total opposites both in style and substance. Satan would have slaves; God would have citizens. Satan would have undivided, unquestioning submission; God would have liberty in worshipful obedience. Satan would take by conquest; God would win through purchase. Satan needs slaves taken by conquest because he has to spend every drop of energy on his assault against Christ. He's like a predatory government that confiscates all the food and oil, letting people starve, so the war machine can be fed. That's how his kingdom operates.
When Satan is stripped bare, having spent his last penny, and is no closer to dethroning God, unconditional surrender will be the outcome. Only then will love be known as the great invincible force of all time. What a privilege is ours that this victory is won in our lives. That's why Paul said the angels long to peer into the things of salvation.
Anyway, those are some thoughts I have. I'll be around some later today to dive into other things.
Nicely said. Full of truth. You nailed that!