Post by frienduff on Feb 26, 2019 16:44:44 GMT -5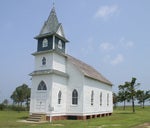 This is not about work of giving to charity, doing miracles, or anything like that. Paul planted churches to be local bodies. He laid the foundation of Christian living. Others came after him to build it up higher in fellowship, edification, and operating in the Spirit. This work — the work of discipling — ultimately determines what sort of temple God has to dwell in. Are church leaders giving Him pure and holy temples, or are they building flimsy huts which cannot contain the weight of His presence?
My brethren, be not many masters, knowing that we shall receive the greater condemnation. — James 3:1
The foundation Paul laid is Jesus Christ. That is the starting point. People then build upon that foundation. Paul refers to these things as works. If the works are good, a reward will be given for them. If the works are bad, there will be the loss of rewards, but that man will still be saved. I don't see any way this can be talking about sins or righteous living. Righteous living is just to be expected. I do not expect rewards for only being an obedient Christian. That only makes me as an unprofitable servant. We are rewarded for good deeds we do, and ministry we perform.
So likewise ye, when ye shall have done all those things which are commanded you, say, We are unprofitable servants: we have done that which was our duty to do. Luke 17:10

as I often tell Cletus on worthy , SAY IT AGAIN BUTERO . SAY IT AGAIN . Yall we in the last days and the devil is doing everything now to get us to overlook things .
To get us to the point where we easing up on correction and then no correction at all. I AM TRIPLING DOWN on correction and sound doctrine .
Fully realizing this will cost me to be totally cast out and severly hated only more . I have determined if the whole world turns against me , THE TRUTH ALONE will be said .
Get the helmets on , cause deception wont be slowing down , in fact be all out prepared the dark one is coming full force for our minds , RESIST HIM IN CHRIST and count the cost
and be prepared to lose all . And I mean , ALL , even our life .