Post by John on Jun 4, 2018 19:43:37 GMT -5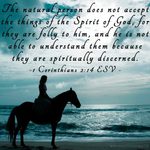 THE TRUTH OF OSAS
John 10: 27-30
27 My sheep hear my voice, and I know them, and they follow me:
28 And I give unto them eternal life; and they shall never perish; neither shall any man pluck them out of my hand.
29 My Father, which gave them me, is greater than all; and no man is able to pluck them out of my Father's hand.
30 I and my Father are one.
Hebrews 6:4-6
4 For [it is] impossible for those who were once enlightened, and have tasted of the heavenly gift, and were made partakers of the Holy Ghost,
5 And have tasted the good word of God, and the powers of the world to come,
6 If they shall fall away, to renew them again unto repentance; seeing they crucify to themselves the Son of God afresh, and put [him] to an open shame.
Romans 8:30
"And those He predestined, He also called; those He called, He also justified; those He justified, He also glorified."
John 3:16 For God so loved the World, that He gave His only Begotten Son, That whosoever believeth in Him Shall not perish but hath everlasting life.
These are just a few verses that prove that once we are truly saved we are always saved forever. I could go on and on about posting scripture in this Article, but I won't I will say this Even Paul believed in Once Saved Always Saved. He knew that he was saved by grace through faith alone.
Many People believe that one can choose not to believe and be lost again. I struggled with that issue for a long time. Just because someone does not believe in OSAS does not mean they are not saved. Just incorrect but still saved if they have truly believed.
They next question would be, "if that is the case why can't we just get ourselves saved and then go on sinning? The answer to that is simple, we will never stop sinning until we are given a new body in the rapture or when Jesus comes back the second time.
As Paul pointed out this is not a license to sin. But sadly as long as the true believer is living in his old body his old body will sin. 1 John: 1:8 states that if we say we have no sin we deceive ourselves and the truth is not in us. But verse 9 is good news for the believer because it states. If we confess our sin He is faithful and just to forgive us, and to cleanse us from all unrighteousness.
I believe that verse is for an already born again believer. It is an encouragement to us true believers.
Anyone that lives in sin and is not miserable i.e. convicted by the Holy Spirit is not saved.
This does not include past sins which we have already confessed. The Devil is the accuser of the brethren and will say, "How can you believe God will forgive you when you committed that horrible sin. In the true believer sin causes death of fellowship with God. In my humble opinion there is nothing worse than a believer that has gone astray. Even worse than unbelievers.
Now saying this we must love our enemies, forgive those who offend us. Forgiveness is for us, not just the target of our forgiveness.
In closing I will say I am not saying those who are true believers and yet do not believe in OSAS is not saved. That is so not true. I am saying they are wrong. I cannot believe after all the terrible things I have done as His child; He still loves me and forgives me. If I get angry with my sons and say you are not my son anymore that would not be true that man would still be my son. The same way if my sons would say; You are not my dad anymore. I would still be their dad.
This is the same as our relationship with God. Once we are saved truly saved, we are always saved. Jesus will never leave us or forsake us or let us go.
As Paul tells us, we are changed, with a new man put on, we are compelled NOT to sin although we may still sin it it no longer our focus in this fallen world.
We are focused on Christ and His Righteousness to help us and guide us to live as best we can in this fallen world until He returns.
He is My Lord and My Savior, He has saved me from all my sins, past present and future. That is why He is my God.
I do not believe in OSAS, and I do not see any of those scriptures as proving it to be true. Some of them are speaking of the fact God, in his foreknowledge, and because he is our creator, knew who would ultimately be saved, and those people will be saved no matter what. It has nothing to do with the fact someone prayed a sinner's prayer and believed in Jesus. James says the devils believe and tremble. I am KJV only, and in my Bible, John 3:16 does not say those who believe shall not perish, but that they should not perish.
The scripture in Hebrews is saying that if someone who has been saved walks away and stays away long enough, the spirit will no longer convict them and it will be impossible for them to be saved. It actually shows OSAS is a lie.