Post by Cletus on Feb 27, 2019 11:09:37 GMT -5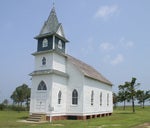 1Co 12:28 And God hath set some in the church, first apostles, secondarily prophets, thirdly teachers, after that miracles, then gifts of healings, helps, governments, diversities of tongues.
1Co 12:29 Are all apostles? are all prophets? are all teachers? are all workers of miracles?
1Co 12:30 Have all the gifts of healing? do all speak with tongues? do all interpret?
i have laid hands on someone with a headache and it got better, but someone sick or going blind no. I mean, i have laid hands on, believed God is able but nothing happened. could God use me to heal someone.. sure. why not?... He Is. Can God speak thru any of His own with any language he wants?... sure. why not?... He Is.
The author is asking a question, which means time to put the thinking cap on. it seems like to me its implied do all speak with tongues is not everyone does.
I understand not everyone will agree with this. I used to believe everyone would speak in tongues once baptized with Fire. but once i really gave thought to this scripture it seems to me that no, not everyone does.
if you do not agree with me thats fine. i dont really care as this isnt really a salvation issue. I also dont really care because i do speak in tongues, interpret tongues, discern spirits, word of knowledge, word of wisdom, i have also experienced the gift of faith and miracles but was not allowed to speak freely when it was in me, i was just allowed to experience it. based on what i have told some of you God has told me i highly suspect there is one more gift He will move thru me in before i breathe my last.
I do want close with one thing. this topic has cause a lot of strife in the past. the passage i quoted above is continued with the author saying to covet earnestly the best gifts... so maybe we just have to ask seek and knock for some of them. but He continues on... yet shew I unto thee a more excellent way. Though I speak with the tongues of men and of angels, and have not charity, I am become as sounding brass, or a tinkling cymbal. And though I have the gift of prophecy, and understand all mysteries, and all knowledge; and though I have all faith, so that I could remove mountains, and have not charity, I am nothing. And though I bestow all my goods to feed the poor, and though I give my body to be burned, and have not charity, it profiteth me nothing. He continues to say faith Hope and Love/charity... but the greatest is Love.
if you dont agree with me thats fine. i just dont want to see this turn into strife and arguing. because prophecy will fail/vanish and tongues will cease. Knowledge will vanish. but love never fails.
That is okay Cletus. There is no need for strife over things like this, and it is not a salvation issue. I just see the tongues people speak when they receive the Baptism of the Holy Ghost as a different experience from receiving the gift of tongues that are mentioned in Corinthians. One is a prayer language that is for our edification, and one is a gift that is used to edify the body of Christ. Everyone in the upper room spoke in tongues when they were filled, and so did the people in the other instances I mentioned in Acts. That is why I do not agree with you on this.
Even so, I have never demanded everyone agree on such things, and still do not. Most of the issues that divide the church are not worth striving over. They are based on a misunderstanding of scripture. That is going to happen. I didn't intend to bring this back up until another thread was started on the same subject, and I didn't feel the need to re-do the whole thing when my position hadn't changed. I figured it was easier to just bump this thread back up again. People are not really behind the strife anyway, demonic forces are. They stir people up to fight. It is certainly not showing the fruit of the Spirit at work in our lives when we fight over doctrine. Discussing is one thing, fighting is another.
But the fruit of the Spirit is love, joy, peace, longsuffering, gentleness, goodness, faith, Meekness, temperance: against such there is no law. And they that are Christ's have crucified the flesh with the affections and lusts. If we live in the Spirit, let us also walk in the Spirit. Let us not be desirous of vain glory, provoking one another, envying one another. Galatians 5:22-26

would be interesting if you could elaborate on prayer languages vs. gift of tongues.

before i had hands laid on me i had been slain in the spirit and spoke in tongues, and received the interpretation. this language was different than what i normally speak.

its possible that what you say is true, thats probably not the best way to word that but the coffee aint kicked in yet... its possible i just have both and never perceived a difference between the two. I have a language that i have never heard anyone else speak.... except once. I was in my room praying and praising and speaking in tongues. i began to hear in my spirit a drum beat and i began to dance in the spirit. then it was in song but someone, an older man began to sing this tongue. i do not know what was said as the interpretation i got was just... he is praying over me. I am part native... the beat sounded native and my language sounds native... but its not any native language. some have said maybe its hebrew or aramaic as they can sound that way... but nope its not.

my theory in what you say is that there is a gift of tongues that we get sometimes... as i said above(short 2 sentence paragraph)... and that was not the language i normally speak(longer paragraph)... but tongues in general is our language and we can do that all the time? When I spoke in tongues the first time it felt like the Holy Spirit fell on me, much like when God would speak thru my mouth the gospel to others, much like when the spirit fell on me in word of knowledge, or when God spoke interpretations of dreams thru me. I had not thought of this until I read what you just wrote, so would like to see what you have to say more on this.